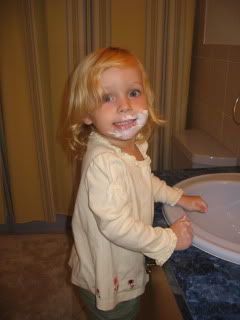 During 6th grade gym class, Wendy Soloff widened her eyes at me. "You don't shave your legs?" she sneered. "What are you, a baby?" That afternoon in the bathroom at home, I looked down at that baby fine blonde hair, "borrowed" my older sister's razor, and began my hate affair with shaven legs.
If only I'd waited and waxed instead, I wouldn't be stuck now with coarse, stubbly legs half the week. If only I'd listened to my mother….instead of succumbing to peer pressure.
My kids see me shave all the time, considering it's a rare treat to shower alone. My leg propped up against the shower wall slathered in shaving foam, or conditioner if I've run out, is a regular sight. They're also fascinated with Antony's shaving routine. Sometimes, he'll put shaving cream on Luke's face and then wipe it off with a towel. Annabel loves to run her fingers on her daddy's face and whisper, "Clean, close shave."
But I realized today–after a harrowing escapade–that my kids had NO idea that razors were sharp, that razors could cut you.
I was finishing up the lunch dishes, a never-ending task. My children had disappeared and in my house, quiet children usually equals trouble. After looking in their rooms, I found them in my bathroom.
Annabel and Luke stood there, looking wide-eyed and as guilty as teenagers stealing beer from garages.
"What are you doing?" I asked, amusement in my voice, at first.
"Shaving Lukey's face, just like Daddy does," Annabel replied.
In her hand was my razor–she'd climbed up onto the cabinet and snatched it. In the razor blade were several inches of Luke's wispy blonde hair; she'd shaved off a portion of hair close to his temple.
And here's where Crazy Mama comes in. "You did what? Why did you do that? Don't you know that razors are sharp and can CUT you and your brother? You could have really hurt him or yourself! Oh my god, why did you do this?"
Three-second pause.
"Wahhhhh!!!!" My four year-old screamed and cried louder, tears spurting out of her eyes.
I looked at myself in the bathroom mirror. I DID look scary and crazy. My eyes bulged and my cheeks reddened. My hair stuck out on top from where I'd been pulling it.
"Am I gonna make Lukey dead?" she screamed.
"No," I clenched my jaw, "but you could have really hurt him!"
I shouted again, and Annabel retreated to her room for a long time out. It was a good five minutes for me to try to calm myself down. When I entered her room, I felt immediately terrible as she was hiccuping and sobbing still on her bed.
"Annabel," I began. "Can you tell me why you're so sad still?"
The lower lip jutted out. "Because you yelled at me."
Coming from a mama who tries to teach her children to NOT yell at one another, it's clearly an example of "do as I say, not as I do." I need to be better about this, obviously.
"I shouldn't have screamed so much," I told her. "But you scared me. And when Mama gets scared, she goes a little crazy."
Annabel looked up at me, tears dripping from her chin down her neck. "I know."
I hugged her to me, trying to explain that I wasn't as mad at her as I was worried, worried that she'd hurt herself or Luke. And then, over and over again, I told her that I loved her and always would, even if I did get mad at her at times.
"Do you know how you get mad at Luke when he colors on your pictures or knocks down the towers you've built?"
"Uh-huh," her lower lip still shook.
"Well, it's kinda like that. I'm mad at you, and then I get over it and I'm not mad anymore. Just like one minute you're mad at Lukey and then he's your best friend again."
She leaned into me, her runny nose pressing against my shoulder. "Sometimes I go crazy when Luke ruins my stuff."
"I know," I told her, kissing her head. "Sorry your mama's so crazy sometimes."
And then I lectured her about razors, safety with sharp objects, why she shouldn't take things without asking, and like a true crazy mama, I made her promise that when someone makes fun of her in 6th grade for not shaving her legs, she'll tell me first. And I'll take her to a waxing salon.
Just like when I rub her face with sunscreen, I promise her. "You think I'm crazy now, baby girl, but you'll thank me later."
Popularity: 2% [?]