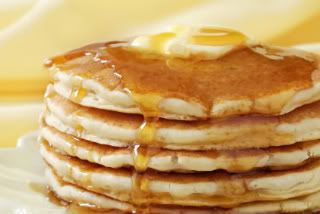 This morning I cooked Cottage Cheese Pancakes, taken from an awesome chef's blog called Mmm…That's Good. These pancakes are so healthy and extremely quick and easy to make. I'd rather give my kids, and myself, a breakfast that includes some protein for high energy, but I get a little sick of hard-boiled eggs. These pancakes are low in sugar and high in protein, quite different from most of the processed, pre-packaged breakfasts out there. And they tasted so yummy! They reminded me of the taste of a crepe, just thicker. And smothered in real maple syrup, my kids gobbled them up.
Of course, I couldn't call them Cottage Cheese pancakes to my kids or they'd never eat them! So, as I whipped the cottage cheese into the eggs, I said, "I'm making you South African pancakes! Daddy used to eat these all the time when he was a kid!"
They gobbled up that lie just like they did the pancakes.
When you're a mom, it's all in the presentation, right?
It got me thinking, what other lies have I told to my children, all in the name of "what's good for them"?
* "They won't let you turn three until you poop on the potty."
* "You're not allowed to chew gum until you're 4. That's the rule of 4 year-olds."
* "If you don't brush your teeth, they'll fall out."
* "Crunchy asparagus reminds Mama of candy!"
* "What are you eating, Mama?"
"Nothing," (gulp). "Just finishing up some broccoli." (a.k.a. Kit Kat)
* "Can you believe that Cinderella invited you to lunch at her castle?!? She called yesterday!"
* "Sorry, the playground's closed today."
* "Every little boy takes a nap."
* "Nope, we're out of juice (or chocolate or cookies or sprinkles). Guess we'll have to go to the store tomorrow."
* "Did you and Luke do anything fun while I was at school?"
"Nah, we just cleaned the house and ran errands."
* "Daddy ate the rest of your Halloween candy."
And unfortunately…
* "You will always be safe. Nothing bad can ever happen to you."

***What lies do you tell YOUR children?***
Popularity: 4% [?]