Perhaps Luke, my three year-old son, read my last post. Perhaps he picked up on its gentle hints that I'm a supporter of an egalitarian household, that I don't want my children to ever see ME stuck in any one role (i.e. "house cleaner"), nor do I ever want them to feel pegged into any role themselves.
Today, THIS is what he decided to do in his free time while his sister was at school: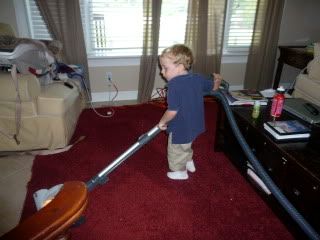 I'm training him early, I've decided. Luke's future wife, you may thank me now.
Popularity: 2% [?]