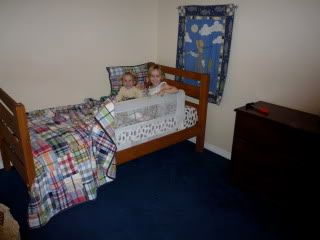 Our almost 3 year-old son, Luke, slept in his big boy bed for the first time last night. Among the truck and car sheets, covers, and mounds of pillows, he looked tiny in that twin-sized bed. Just the night before, he seemed enormous in his crib, sleeping diagonally to maximize the space.
The move to the big bed was prompted by one thing: Luke's propensity for climbing (in this case, climbing OUT of his crib). While he was actually fairly deft at hoisting one leg over the railing, hanging on for dear life, and then plopping down onto the floor, I was terrified that my accident-prone son would break a bone (or several) before too long. So my plan to keep him caged in a crib until kindergarten was foiled. Drats!
This newfound freedom makes Luke giddy. He and Annabel practiced which way he would climb up into his bed and which way he would climb down. She designated the 8-inch space between the guard rail and the head of the bed as the "up" spot. "Lukey," she instructed, wise in the way of twin beds, "this spot is PERFECT for climbing into your bed because then you're RIGHT BY your pillow already!"
He took her up on her suggestion. Then he tried to talk me into letting his big sister sleep in bed with him. "Please," he begged, "I won't cry!"
I've slept in the same bed with Annabel recently; I know her penchant for kicking off covers, for throwing her feet over her partner's back, and for generally flailing her arms all night long. I decided that for the first night in his big boy bed, sleeping alone was the best bet.
"Maybe if you stay in bed all week long," I told him, "you and Bel can have a campout in your room on Friday night."
Aren't I the meanest mom in the world for squelching their screams over building a campfire and making s'mores in the middle of Luke's bedroom???
Anyway, as I type this, Luke is STILL SLEEPING. Once he got over his initial jack-in-the-box syndrome, he stayed in his big boy bed THE ENTIRE NIGHT. I'm proud, overjoyed, and to be honest, a lot sad that my baby is now a big boy. Where did the two years and eleven months go?
I think I hear him now, muttering, "Mama, I'm awake…" I'll go in and check on him. And if he's still sleeping, I can stand there with my mug o'coffee in hand and marvel at how he can look so big and so small at the same time.
Popularity: 2% [?]